Mandrakes in soil pots can sometimes be a pain. But what about mandrakes in delicious pot cakes?
- From :
Hello everyone! It's everyone's favourite and only food bloggers, Astoria! I'm here with an interesting new recipe for you... Mandrake Pot Cakes! Who likes transferring mandrakes from pot to pot? Not me! Now, you can still have a mandrake pot cake but enjoy it in... silence? That's right! Let's dive right in and get baking!
---
Cake ingredients:
2 cups sugar
1 3/4 cups all-purpose flour
3/4 cups unsweetened cocoa powder
1 1/2 tsp baking powder
1 tsp salt
1 1/2 tsp baking soda
1 cup milk (I used 1/2 cups 1% and 1/2 cups buttermilk for extra richness)
1/2 cup vegetable oil
2 eggs
2 tsp vanilla
1 cup boiling water
Frosting ingredients:
12 tbsp softened butter
5 1/2 c powdered sugar
1 c cocoa
2/3 c milk
2 tsp vanilla
---
Cake Steps:
Preheat oven to 350°F.
Sift cocoa powder and flour. Mix with baking powder, baking soda, salt and sugar.
Add to that milk, eggs, vanilla and vegetable oil.
Add boiling water to mixture slowly – otherwise you'll have a mess on your hands.
Ladle batter into muffin tins or 8 inch greased cake pans. Bake for 18-20 minutes for cupcakes and 25-30 for cakes.
Once they're out of the oven, let cool in the pans for 10 minutes, then transfer to racks.
Frosting Steps:
Cream the butter. Then add 1/3 of the powdered sugar and mix completely.
Add 1/2 the milk and all the vanilla and mix again.
Add 1/2 the cocoa, mix.
Repeat until all ingredients are in! If it's too liquid, add more sugar. If too thick, increase the milk.
Wait for cupcakes to cool completely, then frost!
I served these little delicacies in plastic pots to really give it that mandrake pot cake vibe. Hope you enjoyed and make it last until next time! Peace out!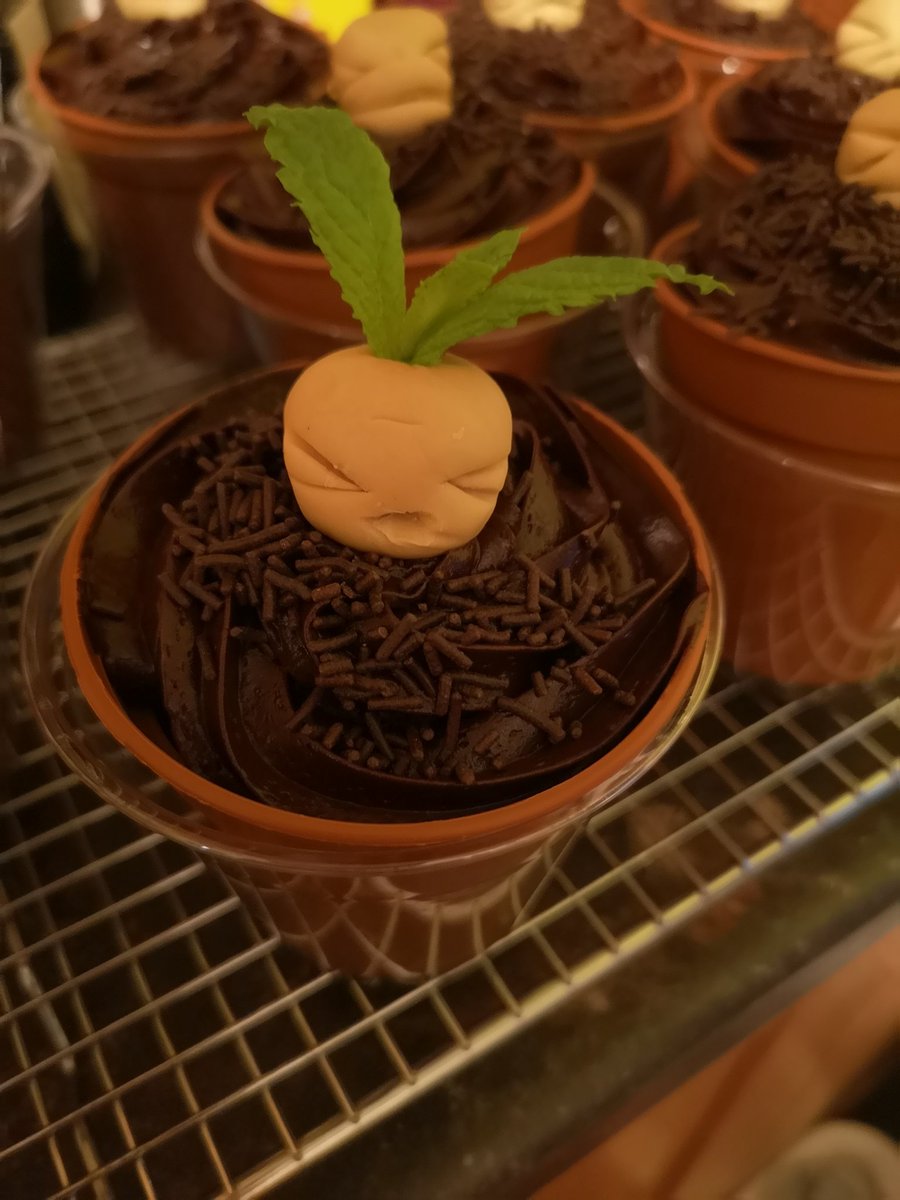 This blog post has been written by:
Astoria Adler