Looking for something sweet to eat? This week's recipe is on one of the most iconic snacks in the HP universe,...Pumpkin Pasties!
- From :
Hello my lovely readers, it is I, the queen of snacks from Harry Potter! Today, we'll be taking a look at one of the older snacks, one served on the Hogwarts Express... the one and only, loveable Pumpkin Pasties! Learn How to make Pumpkin Pasties from Harry Potter in just a few minutes with this simple recipe! They are absolutely amazing! From the first book of Harry Potter we were introduced to Pumpkin Pasties, and they remain one of the iconic treats of the books and movies. Don't miss out on trying one of these delicious sweets. Learn how to make Pumpkin Pasties from Harry Potter. They are easier than you think!
---
1 pkg Refrigerated Pie Dough
14 oz Pumpkin Puree
1/2 cup sugar
1 tbsp pumpkin pie spice
2 eggs (divided)
---
Preheat oven to 400 degrees F
Line baking sheet with parchment paper.
Roll out pie dough circle and cut three 5 inch circles of dough out of each.
In a medium bowl beat together pumpkin puree, sugar, 1 egg, and pumpkin pie spice until smooth. Spoon 2-3 tbsp of pumpkin mix into the center of the small dough circles.
Fold over the dough circles and pinch them shut to seal. Use a fork to help you if necessary.
Using a sharp knife cut a small lightning bolt into the top of each pumpkin pasty for venting. Just 3 small slits in a zig-zag pattern.
In a small bowl beat the second egg. Brush the tops of each pumpkin pasty with the beaten egg.
Bake the pumpkin pasties for 15 -20 minutes or until golden brown.
Cool and serve.
If you are gluten free, I suggest using gluten free pie crust! They are best eaten cooled but they can be eaten hot if you just couldn't wait, like me! That's all for now, folks, but don't forget to tune in next week for From The Kitchen! And don't forget to read the other recent blogs, they're all amazing! Peace out!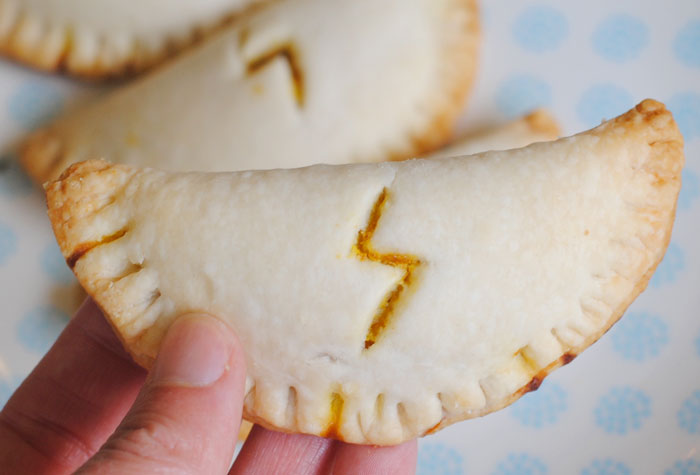 This blog post has been written by:
Astoria Adler